Total Command of your home Wi-Fi for the ultimate Internet experience.
INTRODUCING GIGAHOOD
IQ
and the new GigaSpire Blast router. Coming soon, the option to add our powerful Gigahood IQ Protection Suite.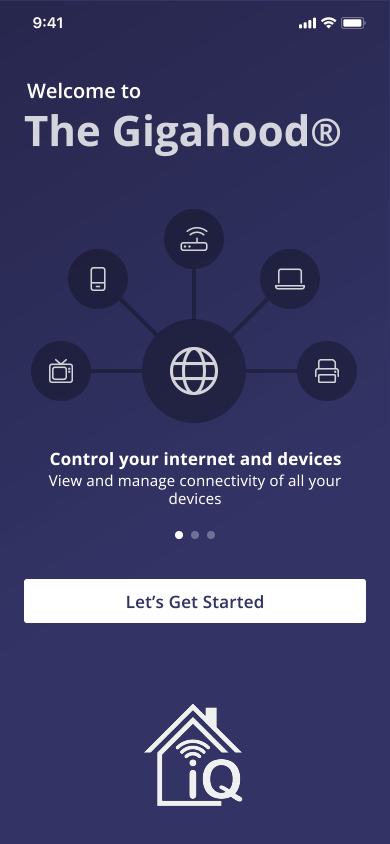 This Is What Premium Wi-Fi Is All About
Total Coverage
Advanced Wi-Fi with the GigaSpire Blast router optimizes signals, giving you more complete coverage, with the option to extend the range even further with optional mesh extenders.
Total Control
The Gigahood IQ App puts control in your hands to create a guest network, set up parental controls, and much more.
Total Security
24/7 support, and the Gigahood IQ Protection Suite, so you can enjoy a stress-free experience fully managed by the Gigahood IQ App.
Gigahood IQ
One simple app that puts you in
Total Command!
Gigahood IQ® delivers everything you need to control every aspect of your home Wi-Fi experience. The simple, intuitive design of the app puts the information you need at your fingertips to set your network priorities for performance and security for every device, application, room, and family member.
*Only available with Gigahood service.  Limited features with GigaCenter router, some features only available with GigaSpire Blast router.
ExperienceIQ™
Wi-Fi Protection for the Family!
Advanced parental controls lets you manage your child's screen time, the content they are searching, and the sites they can access. 
ExperienceIQ™ also allows you to prioritize your devices or activity traffic for work, gaming, streaming, etc. for the optimal Wi-Fi performance.
Content Filtering
Ensure the online safety for your children and other family members by restricting access to inappropriate content for individual users based on numerous preset categories, such as pornography and nudity, violence, P2P file sharing, online shopping, social networks, and many more. You can also block access to specific websites or applications for some or all users.
Usage Reporting
Get a view of the approximate time each user spends on different applications, so you can better understand your children's online activities. Per-user usage reports are available on a daily, weekly or monthly basis. For example, a parent could view how many hours each of their children spent on TikTok, Instagram, YouTube and more, during the past week.
ProtectIQ™
Let's talk viruses!
ProtectIQ™ helps keep a lock on your network and alerts you when any unwanted visitors try to enter.
ExperienceIQ™ also allows you to prioritize your devices or activity traffic for work, gaming, streaming, etc. for the optimal Wi-Fi performance.
Protect Against Viruses
Protect all devices on your network. As long as devices are connected to your home network, every file that passes through your network is scanned, known viruses are blocked, and then destroyed before you even encounter them.
Prevent Intrusion
Part of the ProtectIQ™ layer is to prevent cyber criminals from accessing your network. We'll make sure your sensitive information is secure, ensuring your information is only yours.
Block Malicious Websites
We analyze the data from thousands of malicious sites, and in turn phishing, hijacking, spyware, adware, and malware sites are blocked. You'll also receive a notification if content was blocked for some reason.